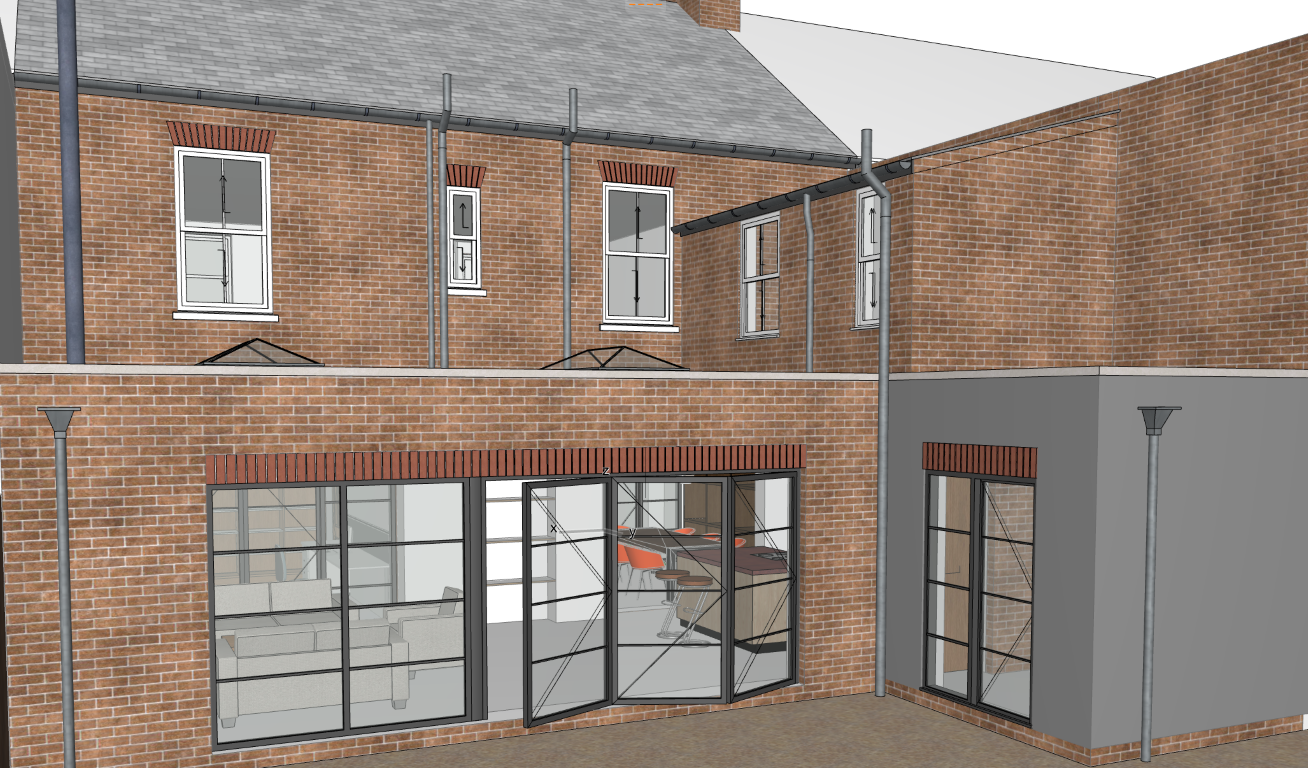 Renovating a family home
Renovating one of the coveted Victorian terraced houses in the Golden Triangle area of Norwich is no mean feat, so for our new clients, Lucy & John, we cannot wait to see their vision come to life. For the purpose of this blog, we join the project at two weeks into the renovation.
John and Lucy have two children, and plan to renovate their space into something which is both functional and social. They currently have a slim kitchen and separate small conservatory which leads off from a different room of the house, which the children have used as a play room and refer to as the 'cold room', due to the age of the house.
Their plans, brought to life by Howie Architects, include, removing the current conservatory and adding an extension to the back of the house, to make an open plan kitchen diner with island which then leads straight into the garden, via external steel effect bi-fold doors, which offer a really strong design element to the renovation. It was important to John and Lucy that they kept the character of the house, but that it was met with their modern influences.
There will also be some internal works carried out to remove some internal walls and replace with glass doors with the aim of bringing a lot more light into the house, and also to renovate the cellar in the property, so that this becomes a more usable space for the family, such as an enviable out-of-sight utility space!
When asked "Why Bespoke Norfolk" it turned out that we came recommended to John and Lucy through an acquaintance who had previously had internal works carried out by us, and although they had asked many builders in Norwich to quote for their project, they had chosen us for a number of factors, that in their opinion had tipped the scales in our favour; "We just had a really pleasant conversation with Stuart, the Managing Director of the company, who was able to share with us lots of options to spend the budget we had allowed for, it wasn't a one size fits all approach, there was real flexibility. He had plenty of really great design suggestions that we hadn't thought of that he could show us in real time on the iPad, that really made a difference to the space. It didn't feel like we had a salesman in our house, it felt like he showed an interest and cared about what we wanted to create. I think for us, one of the main reasons as well was that communication was really clear. Everything has a really clear plan, a full oversight, a clear schedule and that was something we really needed."
We have shared some 'before' pictures, 3D drawings and progress pictures as the renovation has begun, and will check back in on John and Lucy in the coming weeks to see how this fantastic space progresses!
If you have a space that you would like to renovate or extend, whether you have existing plans or none at all, we can help you at any stage, simply use our contact form here to get in touch today and start working on your dream!
---
[foogallery id="858″]