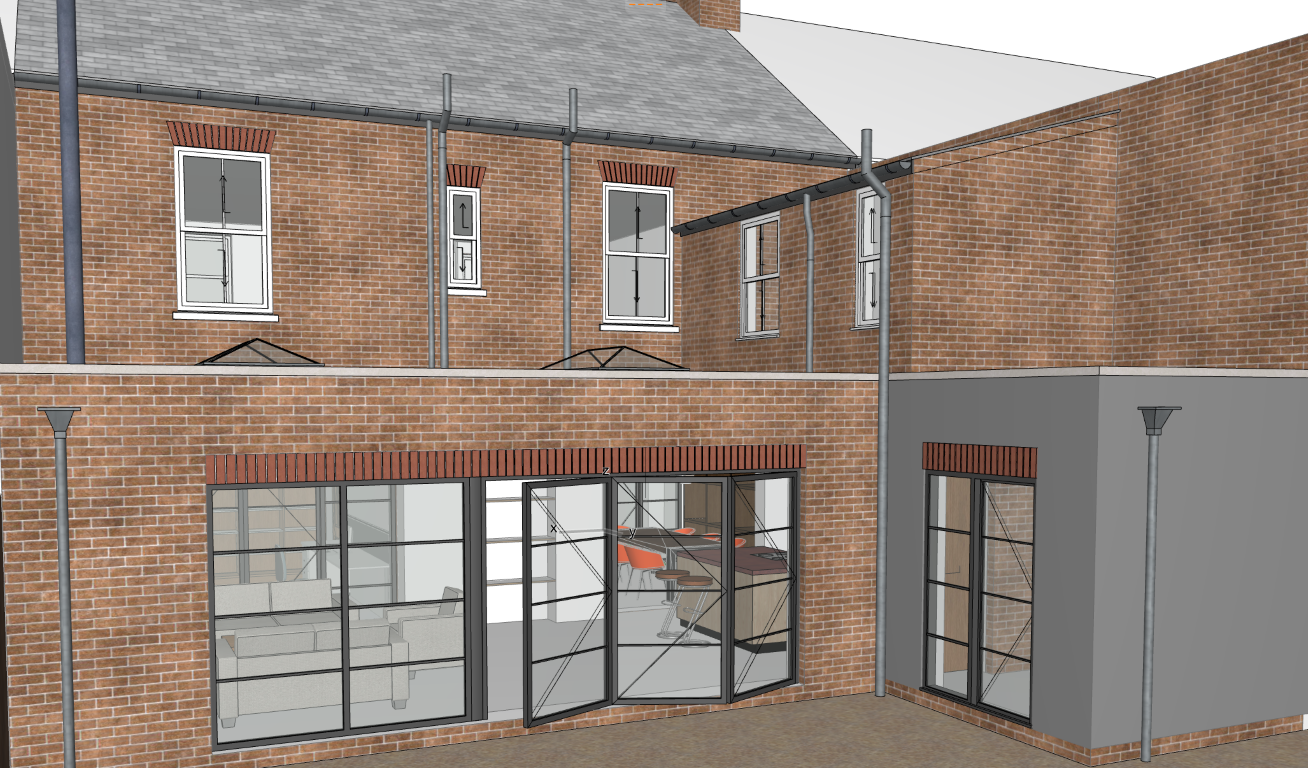 Creating Space in a Small House With Smart Renovations
One of the main reasons someone chooses to renovate their home is to create space. This is most important for smaller homes that could really benefit from some extra space. This leads many people to wonder how to make space in a small house.
When packing up and moving to a larger property is out of the question, the next best idea is to renovate. By taking up a small house renovation project, you're almost giving your small property a new lease of life. Turning it from a compacted house to a perfectly-sized sanctuary.
In this blog, we're going to share some of the best practices when it comes to renovating a small house. We'll also let you know where to start with your home renovation, the benefits of renovating, and more from the experts at our Norfolk-based construction company.
Home Renovation to Open up the Floor Plan
House layout is vital to any home, especially smaller ones.
In a small home, every decision matters. The chief one among these is the floor plan. Smaller properties often fall victim to cramped floor plans, consisting of lots of small rooms to create a closed-off overall space. 
But through renovation, you can create space in a small house just by switching the house layout to an open floor plan.
Open floor plans have become more and more popular as the years go on. Simply, an open floor plan is an architectural house layout that creates a more open dynamic in the home. Often with open floor plans, the living room, kitchen, and dining room are merged together to create one big, open room. As opposed to having the three major rooms separated by walls.
As well as creating a more open dynamic in the home, an open floor plan also makes your home look and feel larger than it is.
Think about it this way: instead of having a bunch of small, contained rooms squashed together, you will have one large room with different sections. The different sections are typically a lounge, kitchen and dining area.
An open floor plan usually opens up the entire first floor of your home, but any bedrooms or bathrooms on the same floor are still cordoned off.
Open-plan living has its pros and cons, but one big positive is its ability to make a home look and feel more spacious.
When our construction company in Norfolk had created open floor plans as part of renovation projects before, our clients loved that their once small homes had seemingly doubled in size. This was achieved by adapting their house layout to include an open floor plan.
5 Renovation Ideas for Small Houses
Renovating your home to open up the floor plan is just one way of creating space in a small home. There are a handful of other small house renovation ideas you can put together to create a home with ample space.
1. Convert Unused Space
A cloakroom no one ever uses, an unfilled gap between the kitchen table and the wall, or bare tall walls. Every home has one, two or several areas like this . These anomalies take up what little space you have without offering much in return.
So if you're wondering where to start with a renovation, this is our recommendation. Go around your home and list areas that are using up space that could be used more effectively. Also, if you can get your hands on your house plans, you could identify areas for expanding square footage.
The most notable of these types of areas in our homes is the loft. Oftentimes, people don't realise just how much unused space is going to waste up there. By converting your loft, you could create an entire extra room for your home.
2. Natural Light and Light Colours 
When a home is not lit very well, it looks enclosed and not particularly inviting. This is why adding light to a house is a great way to make it feel and look bigger. Natural light is best, but this can be achieved with artificial light too.
When a home is bright and light, it creates an optical illusion of sorts. Our eyes are tricked into thinking the room is bigger than it is. Illusion or not, it's very effective at making a small space appear larger.
So introduce natural light, set up artificial lights, and use light, neutral tones in your interior design.
3. Connect with the Outside 
The back garden of a property is as much a part of the home as the rooms inside. One creative way of making more space in a small home is to connect to the outside.
Instead of thinking of the back garden as a separate entity, treat it as an extension of your home. Outdoor living may not be so popular in the wintertime here in the UK, but as soon as the sun is out, spending time outside is much easier.
With this renovation idea, the house doesn't end at the back door, but at the back fence.
4. Built-in Storage
In a small home, space is rare and clutter is easy to come by, which means storage is of the utmost importance.
When remodelling a small house, you have the perfect opportunity to create some built-in storage features. If you want to, you could recess into bare walls to create shelves, cupboards, wardrobes and so on.
The great thing about built-in storage is that it takes up no room as you're utilising space that was not even available before renovation.
5. Consistent Flooring 
This idea ties into our open floor plan recommendation. The flooring you choose for your home is vital for many different reasons. But when remodelling a small home with the hope of creating more space, by using a consistent flooring material, you can create the illusion of more space.
Similarly to adding light to a home, consistent flooring is also an optical illusion for more space. When the flooring is the same in multiple rooms that lead onto one another, it creates the effect of one large room, rather than multiple small ones.
Home Renovation and Extension to Create Space in a Small Home
Creating space in a small house is no simple task, and when your only option is to renovate that doesn't leave you with loads of options – you can only work with what you have!
But there is a solution. Some of our most forward-thinking clients have decided to combine two of our Norfolk Construction services together to create one big project. To achieve more space in a small home, you could renovate and extend your home with an extension.
Remodelling a small house to make more space starts with an extension. By building a single- or double-storey extension onto your property, you're using up available space around your home to make more room for the inside of your home.
Next, a fresh renovation of your home will create as much free space as possible that is currently within your home. As both of these home improvements are taking place as one project, the design and finish are going to be consistent across the board.
Check out examples of our Norfolk renovation and extension projects on our case studies page >
Where to Start with a Small House Renovation
If you're mainly renovating your small home for more space, then you already know what you want to do, so you're off to a good start. But here's a handy step-by-step renovation plan to follow.
1. Create a List
Yes, you want to renovate to create more space in your small home, but what else? At this initial stage, you should make a list of everything you want to get done with this renovation. Think about repairs that need doing, interior or exterior work or both, and are there any other must-dos?
2. Sort Your List 
If this is an entire home renovation or a renovation project concerning more than one room, sort renovation tasks by different rooms. Then, get your priorities straight and label them by urgency.
3. Reach Out to a Construction Company
Now is the time to look around and ask for quotes from different builders, like Bespoke Norfolk Group. Once you have received some quotes, you can make adjustments to your budget if necessary and when you're happy with a quote, move on to the next stage.
4. Collaborative Planning 
A collaborative approach is a winning approach. Work with your chosen contractor to come up with an airtight plan. Included in this plan should be scheduling, ordering, architectural designs, and more.
Benefits of Creating Space in a Small Home with Renovation 
Creating space in a small home is usually less of a desire and more of a need. In some ways, it could even feel like a lot of hassle. However, remodelling a small house comes with a lot of benefits that are worth keeping in mind.
A renovation of your home could increase its value

Renovating your home keeps you in a home and area you love

You can mould your property into the perfect home that works for you

The cost of renovating is less than buying a new house

You may not need planning permission

 to renovate
In conclusion, we're big believers in renovating your house to make it the most perfect place for you. When a property fulfils all your needs and desires, it becomes more than a house, it becomes a home.
As a local construction company in Norfolk, we're experts in creating extra space in small homes. Speak to our team today about your property and we'll be able to advise you on how best to proceed.